History Of The Firm
Of ancestry, antiques and art... 
George Gardner held his first auction in London, Ontario in 1922.  One of his early sales was selling horses for the City of London when they switched from horse-drawn to gas-powered trucks.  Some of his major sales include Tecumseh House, at one time the largest hotel in the British Commonwealth and the contents of many of London's finest homes.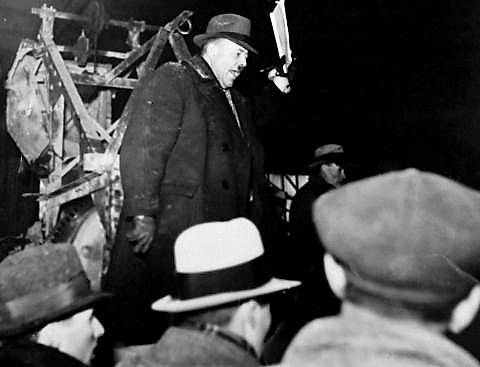 George Gardner on the auction block, London, 1940
Shortly after serving in the Royal Canadian Air Force in World War II, George's son, Jason, became his partner in the business.  When George Gardner passed away unexpectedly in 1952, Jason carried on as an auctioneer and appraiser.  He purchased his first permanent auction house at 2 Langarth Street West, London in 1960.  He sold for Fyfe's of Edinburgh throughout Canada and made international headlines including Time Magazine when he was hired by a Toronto syndicate to auction antiques from Castro's Cuba in the mid 1960's.
Jason Gardner at the 186 York Street Gallery, London, 1998
Throughout the decade Jason held regular estate sales but also auctioned real estate, cars, factories, bankruptcies and even the contents of London's old city hall.  Having outgrown the Langarth Street location, Jason purchased 186 York Street in 1971, an historic building located in the heart of downtown London directly across from the Via Rail Station.  Grant Gardner, Jason's son, joined in 1975 and changed the direction of the business from a general auction company to one specializing in fine art & estates and by 1999, a second building at 407 Hamilton Road was purchased to host weekly live estate auctions.  These auctions quickly became a regular attraction for dealers, collectors and the general public from throughout Southwestern Ontario.  In 2011, Gardner Galleries introduced online auctions which also became an instant success.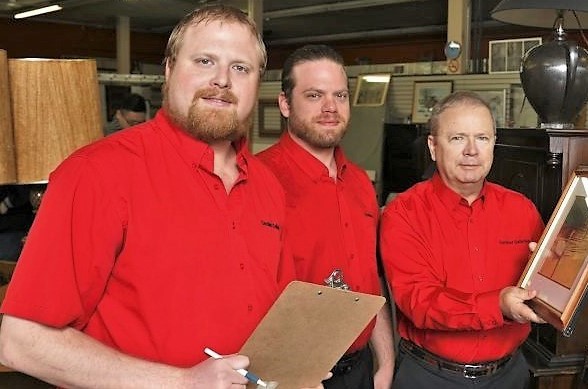 James, Mark and Grant Gardner, "Going, Going, Certainly Not Gone" article
(Photo courtesy of London Inc. Magazine, 2017)
The fourth generation, James and Mark Gardner, learned the business from the ground up and could often be seen in their early teenage years moving furniture, cleaning the salesroom floor and working live auctions during summers, evenings and weekends.  The Gardner brothers attended the world's leading auction school, Reppert School of Auctioneering located in Auburn, Indiana in 2002 and eventually took on managing rolls.  In 2011, James pioneered monthly online art auctions in London which have since generated millions of dollars for his clients and Mark handles regular online estate auctions which attract a worldwide audience.  Today, after nearly 20 years working in the auction industry and investing all their time and energy into the family business, James and Mark are proud of their great success story and are often called upon by other industry leaders for advice.  Both brothers are accredited members of CPA (Canadian Professional Appraisers) and are regularly asked to participate in antique appraisal seminars and charity auctions.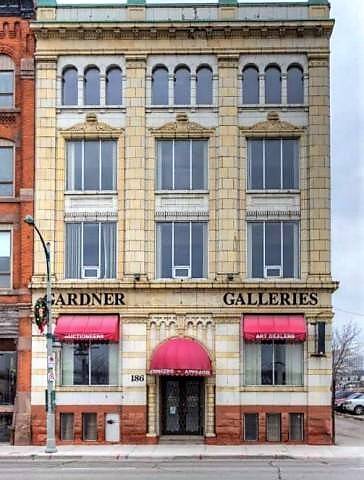 186 York Street, historic building in downtown London, owned and operated by Gardner Galleries from 1971-2014
Recognizing that the auction industry was evolving more and more to online sales, the York Street location was sold in 2014 and a new integrated website and auction software suitable for mobile devices was introduced.  All online auctions are now out of the newly renovated 407 Hamilton Road location.  Along with 20,000 square feet of floor space, our clients enjoy the easy access to the 401 highway, not having to visit two locations, everything located on one level, free parking with loading area and of course, the assistance from our staff.  Alongside the main auction floor, two online auction showrooms, the "George Gardner" and "Jason Gardner" galleries display items for current auctions.  The strength of online auctions was shown in the spring of 2015 when a 1970 Jaguar E-Type 2+2 coupe from an Ontario estate sold for $110,800, attracting bids from across Canada, the United States, Europe and the Middle East.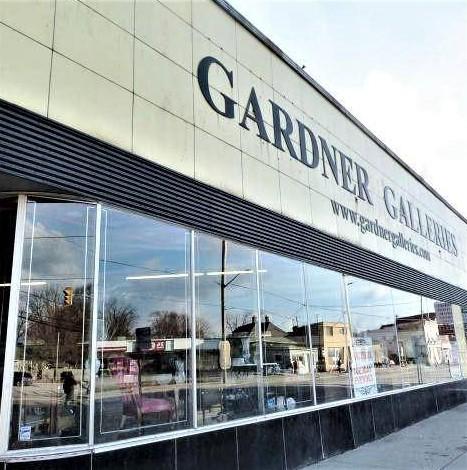 407 Hamilton Road, Gardner Galleries present location, a newly renovated art deco building close to downtown London and the 401 highway
Over the past 97 years, Gardner Galleries have conducted thousands of successful auctions including the contents of Castle Kilbride, the Law Estate Collections of Toronto whose antiques realized one million dollars, an Arthur Elsley painting which sold for $350,000 and a Simon Willard tall case clock for an outstanding $64,000.  Gardner's have also broken several world records including a Florence Carlyle painting for $115,000, an 8 1/2 x 11in A.Y. Jackson oil on panel for $160,000 and the Dow Canada Art Collection which broke several existing art sales records, such as a York Wilson oil on canvas for $11,500.  In 2011, Gardner Galleries made headline news worldwide when a book, the Captain James Wallis album of hand-coloured engravings and watercolours was found in an estate residence clothes closet and sold for an outstanding 1.8 million dollars.  More recently, Grant, Mark and James have all been featured on CTV and other news media for handling well known collections such as The Guy Lombardo Museum and the the Ivan Kasiurak autograph collection.  With a new and improved website in 2019, Gardner Galleries now conduct 140 auctions per year with 50,000 lots sold annually.  The entire staff are proud to be the oldest auction firm in Canada under continuous ownership and one of the select few family businesses to reach the fourth generation. 
Some recent photographs inside our gallery, including auctions of furniture, art and collectibles: